If you're a fan of online casino games, chances are you've heard of Mega Moolah Progressive Jackpot. This game has been around since 2006 and has paid out millions of dollars in prizes over the years. But what exactly is Mega Moolah, and how does it work? In this article, we'll answer those questions and more, including how to play, the rules, and tips for winning.
What is Mega Moolah progressive jackpot?
Mega Moolah Progressive Jackpot is a popular online slot game that has paid out millions of dollars in prizes since its launch in 2006. The game is known for its massive progressive jackpots that can reach into the millions of dollars. The game has become so popular that it has been mentioned in several news articles and even on television shows.
How to play Mega Moolah progressive jackpot
To play Mega Moolah Progressive Jackpot, you first need to select your bet size. The game offers a wide range of betting options, so you can choose a bet size that suits your budget. Once you've chosen your bet size, you can start spinning the reels. The game features a number of different symbols, including lions, monkeys, and zebras. The lion symbol is the highest paying symbol, so keep an eye out for it.
To win the progressive jackpot, you need to trigger the jackpot bonus game. This can happen at random after any spin. Once you're in the jackpot bonus game, you'll see a wheel with several different segments. Each segment is associated with a different progressive jackpot. Spin the wheel and if it lands on the white segment, you'll win the Mega Moolah Progressive Jackpot.
Mega Moolah progressive jackpot slots
Mega Moolah - RTP: 88.12% - Year of development: 2006
Mega Moolah is the original and most well-known Mega Moolah jackpot slot. Developed by Microgaming in 2006, it features an African safari theme and four progressive jackpots that can be won through a randomly triggered bonus game.
Mega Moolah Isis - RTP: 88.12% - Year of development: 2009
Mega Moolah Isis is a variant of the original Mega Moolah slot, but with an Egyptian theme. It was also developed by Microgaming, released in 2009, and has the same four progressive jackpots.
Mega Moolah Summertime - RTP: 88.12% - Year of development: 2017
Mega Moolah Summertime is another variant of the original game, but with a summertime theme. It was released in 2017 and, like the other Mega Moolah slots, features four progressive jackpots that can be won randomly.
Mega Moolah 5 Reel Drive - RTP: 95.04% - Year of development: 2011
Mega Moolah 5 Reel Drive is a road trip-themed slot developed by Microgaming in 2011. It features five reels and 15 paylines, as well as the same four progressive jackpots as the other Mega Moolah games.
Mega Moolah Atlantean Treasures - RTP: 92.08% - Year of development: 2020
Mega Moolah Atlantean Treasures is a slot developed by Neon Valley Studios and Microgaming in 2020. It has an underwater theme and features five reels, 10 paylines, and three progressive jackpots that can be won through a bonus game.
Mega Moolah Absolootly Mad - RTP: 96.02%
Join the Mad Hatter in the pursuit of triumphs while he narrates throughout the game accompanied by a playful soundtrack in Absolootly Mad: Mega Moolah. This online slot boasts charming symbols and artwork that perfectly suit even the most refined tea parties. It features five reels and 243 ways to win, with multipliers, Rolling Reels™, free spins, and a collection pot.
Absolootly Mad: Mega Moolah has a Rolling Reels feature with a multiplier trail that eliminates winning symbols and rewards an additional multiplier on each successive roll. Landing three scatter symbols will transport players further into the rabbit hole, offering them free spins with an increased multiplier trail of up to x15.
Wild symbols are portrayed by gold coins with an intricately etched Mad Hatter emblem. This symbol not only substitutes for all other symbols to aid in achieving massive wins but also triggers the Mega Moolah jackpot bonus. The Mad Hatter's teapot collects each coin that lands. Once triggered, players have the opportunity to spin the Mega Moolah bonus wheel, which guarantees one of four progressive jackpot prizes and the potential for a crazy win!
Mega Moolah The Witch's Moon - RTP is 88.12%
The slot machine Mega Moolah: The Witch's Moon has 25 paylines, 3 rows, and 5 reels. Landing 3, 4, or 5 matching symbols or wilds on a payline, starting from the leftmost reel, results in a winning combination. Scatter wins are the lone exception, where symbols can appear anywhere on the reels.
Here, bet sizes each spin range from 0.25 to 6.25. Simply click the coin icon next to the reels to access the 7 suggested bet levels.
Mega Moolah Fortunium Gold - RTP is 92.67%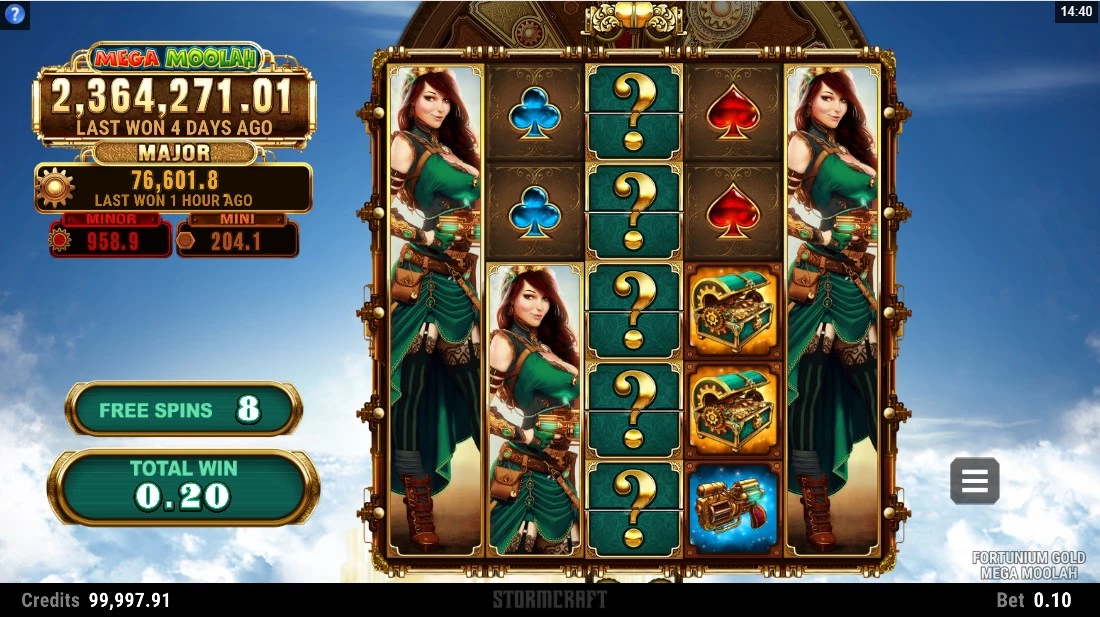 Fortunium Gold: Mega Moolah is a video slot game that features 5 reels, 5 rows, and 40 paylines. The game offers players the chance to win by landing matching symbols from left to right, starting from the first reel. To achieve a winning outcome, you need to have three or more matching symbols.
In this game, players can try their luck in the city of opportunity by placing bets that range from 0.10 to 15 per spin. By increasing your stake, you also increase your chances of hitting the jackpot. Adjust your bet by clicking on the pile of coins on the right-hand side of the reels. Additionally, there are various autoplay options available, allowing you to run up to 100 spins and set win and loss stop limits as needed. Clicking on the lightning bolt will activate the turbo spin mode.
The game's volatility falls into the medium range, and the hit frequency is 31.56%. This means you can expect to land a winning combination approximately once every three spins on average.
During standard play mode, the game's return-to-player (RTP) is 92.67% (which increases slightly with the Win Booster active). Furthermore, there is a 5.3% contribution to the progressive jackpots. Besides the jackpot, the maximum win in this game is 800 times your stake.
Mega Moolah Immortal Romance - RTP of 93.4 %
In the Immortal Romance Mega Moolah slot game, the game logo wild symbol serves as a substitute for other symbols when necessary, and it also doubles the base value of any winning combination it is a part of. Additionally, the game features a Wild Desire feature that randomly activates and turns all reels wild, potentially awarding players with up to 12,000 times their initial bet.
To enter the Chamber of Spins, players must land three or more lion head scatter symbols. This will unlock one of four free spins bonus rounds, which are unlocked on the first, fifth, tenth, and fifteenth triggers. Each round features one of the game's vampires, each with their own unique abilities.
For instance, Amber's round provides ten free spins with a 5x multiplier, while Troy's round offers 15 spins with random multipliers of up to 6x. Michael's round features 20 spins with Rolling Reels and multipliers, while Sarah's round awards 25 free games with extra wilds.
In addition to these bonus rounds, players also have the chance to win a multi-million progressive jackpot prize. This feature can be triggered randomly, and players can win one of four prizes, including the Mini, Minor, Major, or Mega jackpot, by spinning a wheel.
Mega Moolah Juicy Joker - RTP 92.03%
Microgaming, the original designer of Mega Moolah, has since passed on design responsibilities to a group of partner studios. One of the most recent additions to the lineup is the Juicy Joker Mega Moolah from Just For The Win. Mega Moolah is often associated with classically inspired gaming, and Juicy Joker certainly embodies this concept. In fact, the name is a giveaway, referencing jokers and fruit, both of which are staples of the iGaming industry.
While the general gambling public may only care about the top prize, others are more discerning. For those interested, it's worth noting that Juicy Joker operates under a medium volatile math model, with a return to player (RTP) rate of 92.03%. This is significantly lower than what you would typically accept, but it is still better than the original Mega Moolah by around 4%. Players can bet anywhere from 10 p/c to £/€10 per spin, and they will be delighted to know that jackpots can be won at any bet level. However, the larger the bet, the greater the chances of triggering the Jackpot Wheel.
All of the Mega Moolah jackpot slots have the potential to award life-changing sums of money, with the Mega Jackpot starting at a minimum of 1 million $. Additionally, the games are known for their exciting themes, high-quality graphics, and engaging gameplay.
Unraveling the mystery: what are the odds of winning Microgaming's, Mega Moolah jackpot?
Microgaming, one of the leading online slot game makers, is renowned for its mega jackpot offering in its popular game, Mega Moolah. However, the odds of winning this grand prize have always been shrouded in mystery. While the company has not disclosed the actual probability of hitting the jackpot, there are ways to estimate it through simple mathematical calculations.
Calculating the odds of winning
According to industry reports, the average payout of the jackpot is around $5.86 million. However, only $0.02 of each bet contributes to the jackpot prize. This means that the jackpot would need a total of 293,000,000 spins to reach its average payout mark. Therefore, it can be estimated that the odds of hitting the progressive jackpot are 1 in 293,000,000.
Higher bets, better chances?
Microgaming encourages players to bet higher amounts as it increases the odds of triggering the Bonus Wheel Game, which is necessary to release any jackpot prize. However, the company does not specify the exact amount by which the odds increase or how much higher bets are required to do so.
The minimum bet for Mega Moolah is $0.25 per spin, which means it would cost an average of $73,250,000 in wagers to release the average mega jackpot. On the other hand, the maximum bet on this 25-line game is $0.05 per line, or $1.25 per spin.
If the odds of winning the Mega Moolah were to be cut in half with a max bet, it would leave you with a 1 in 146,500,000 chance of winning. However, the cost of all those wagers would increase to $366,250,000.
While Microgaming has kept the odds of winning the Mega Moolah jackpot under wraps, simple mathematical calculations can help players estimate their chances of winning. Betting higher amounts may increase the odds of triggering the Bonus Wheel Game, but the exact amount by which the odds increase remains unknown. So, if you're feeling lucky, go ahead and spin the reels of Mega Moolah - who knows, you might just be the next millionaire!
Tips for winning Mega Moolah progressive jackpot
There is no guaranteed way to win Mega Moolah Progressive Jackpot, but there are several tips you can follow to increase your odds of winning. First, make sure you're playing at a reputable online casino that offers Mega Moolah Progressive Jackpot. Second, take advantage of any bonuses or promotions that the casino offers. This will give you more money to play with and increase your odds of hitting the jackpot.
Third, bet the maximum amount allowed. The progressive jackpot is only available to players who bet the maximum, so if you want a chance at winning big, you need to bet big. Fourth, be patient. The jackpot bonus game can be triggered at random, so keep spinning the reels until it happens. Finally, enjoy the game. Mega Moolah Progressive Jackpot is a fun and exciting game, so make sure you're having fun while playing.
Mega Moolah winners
Over the years, Mega Moolah has produced several big jackpot winners, some of whom have won life-changing amounts of money. Here are some notable examples:
J. Heywood is a player who won a massive jackpot while playing Mega Moolah in October 2015. Heywood, who is from the UK, won a total of £13.2 million (approximately $17.2 million USD) on a 25p bet at Betway Casino. At the time, Heywood's win was recognized by Guinness World Records as the largest ever jackpot won in an online slot game. Heywood later stated that he planned to use his winnings to help pay for medical treatment for his father and to take his family on a Mediterranean cruise.
In September 2018, a player won €18,915,872.81 while playing Mega Moolah at Grand Mondial Casino. This is one of the largest online slot jackpots ever won.
In October 2019, a player won $5,691,921.42 while playing Mega Moolah at Jackpot City Casino.
In April 2020, a player won $16,496,347.95 while playing Mega Moolah at Absolootly Mad Mega Moolah slot game.
In September 2021, a player won $7,231,507.69 while playing Mega Moolah at Zodiac Casino.
These are just a few examples of the big jackpot wins that have been produced by Mega Moolah over the years. The game continues to be popular among online casino players due to its potential for producing life-changing wins.
See more: Microgaming WowPot jackpots: a comprehensive guide, What is a jackpot in online slots? Understanding the big wins, Netent progressive jackpot slots
FAQ
Q: How often does the Mega Moolah Progressive Jackpot get won?
A: The progressive jackpot is won, on average, every 12 weeks.
Q: Can I play Mega Moolah Progressive Jackpot on my mobile device?
A: Yes, the game is available on mobile devices.
If you're looking to win big on Mega Moolah Progressive Jackpot, follow the tips outlined in this article. Play at a reputable online casino, take advantage of bonuses and promotions, bet the maximum amount allowed, be patient, use our tool to track jackpot and enjoy the game. With a little luck, you could be the next Mega Moolah Progressive Jackpot winner.