RTP indicates how much of the wagers are returned as winnings. It will be given as a percentage.
It would be a mistake to believe that this is the amount you will directly get. What happens if you bet £100 on a slot with an RTP of 95%? You could get back precisely £95. However, it is more probable that you will receive more or less than this.
This is due to the fact that the figure is derived from hundreds or millions of games. It's intended to serve as a guide to the total return to all players.
The RTP ensures that they take in more money than they pay out. Theoretically, at a 100% rate, you would get back exactly what you put in.
How might a game ever lose money for the casino in the long run? For this to happen, the RTP would have to be more than 100%. You'll never see a figure like this again. For the casino owner, it just does not make sense.
Slots generally have an RTP of around 92% to 97%. However, this might vary greatly. Even the same developer's games might have drastically varied RTPs.
Can casinos change RTP of their games?
It's important to remember that most casinos don't create their own games. They'll incorporate games created by third-party software developers. This is why you may see the identical games on several websites.
The game's mechanics are being worked out by the developer. The payments and win frequency are provided as part of this. This will reveal the game's total RTP. If a progressive jackpot is available, the amount contributed to it might be reported separately.
This raises a curious topic. Is it possible for casinos to alter the RTP on slot machines? Or will the RTP on the same game be the same no matter where you play it?
Short answer is yes!
Casinos can request game provider to change RTP it if they choose to. The RTP of several slots has been adjusted, according to Video Slots. They said it was due to the implementation of new tax legislation.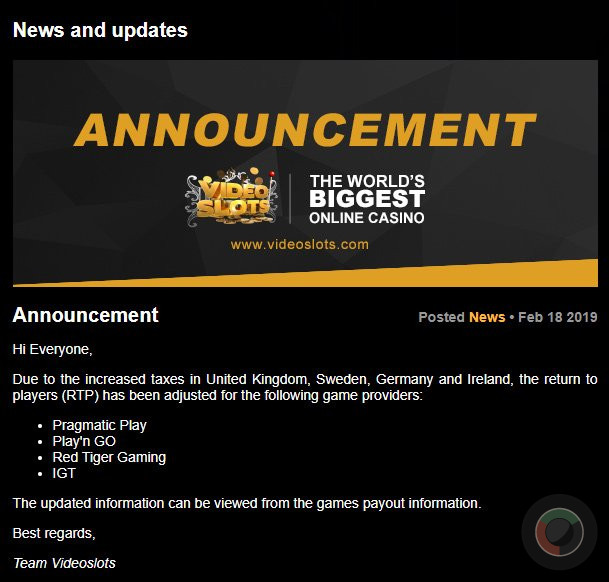 NetEnt is one of the most well-known slot game developers in the industry, and NetEnt RTPs of the same slot may vary from casino to casino.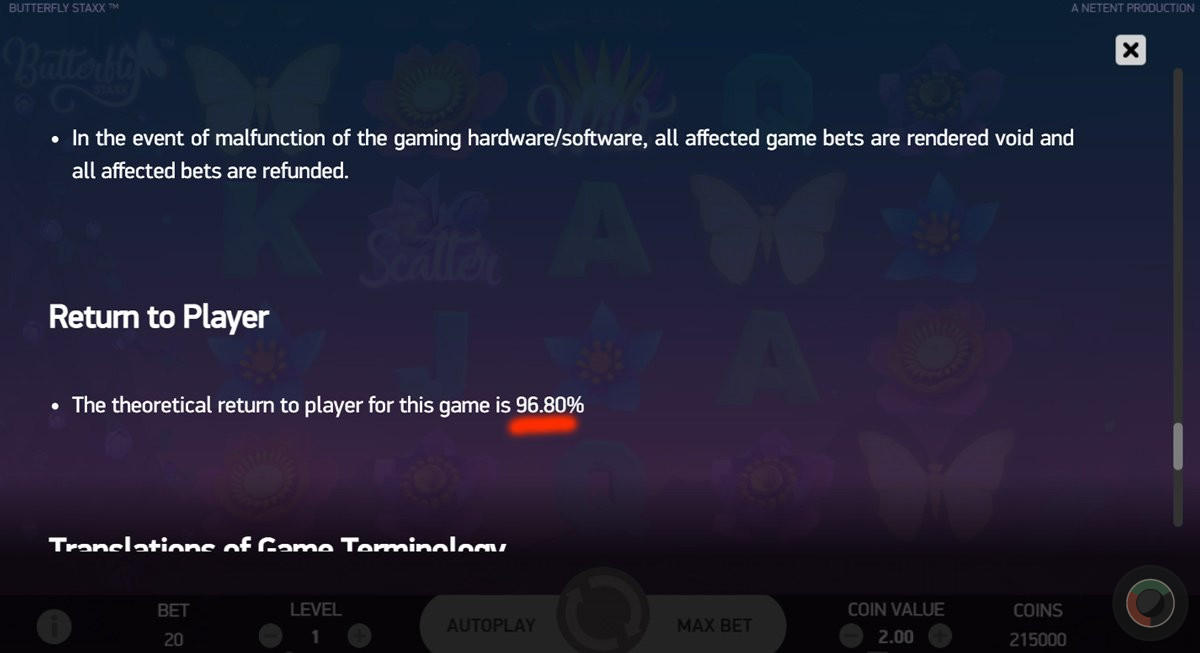 Keep in mind that this is not a full list of providers that allow to change RTPs.
How to find the rtp on a slot machine?
Before you begin to play, double-check the RTP. This will help you decide whether or not to play a game.
Don't simply assume it's the same RTP as you've seen elsewhere. Or that it was previously on this website. You should double-check that the return promised hasn't changed.
Fortunately, this is something that can be easily checked(or not very easy for Play'n GO games). Don't only depend on the casino's lobby overview of the game. You can look into it further to learn the precise figure.
This may be done by looking at the RTP on the site you intend to use or in slot menu itself. It may be discovered with the rules in the information button (i or ? or something else). It may also be found in the paytable. In any case, licensed casinos must display the most recent number.
This is a separate concern if you can't see an RTP. Is it a casino that isn't licensed and uses a shady software provider? Some regulatory agencies are also more forgiving in this regard. Casinos and developers authorized by the Curacao government, for example, do not necessarily publish their RTPs.
Why are they acting in this manner?
The obvious solution is to earn more money. Less money is given out to players when the RTP is lower. Over thousands of spins, even a minor adjustment may make a huge effect.
They keep more of the wagers if they reduce the RTP. It's understandable that they'd feel tempted to do so. Especially if they are experiencing financial hardship due to poor earnings.
They must, however, strike the appropriate balance. If players believe they are not getting enough value, they will depart. This is particularly true if participants believe they have been cheated in some way.
The RTP of a slot machine is the best indicator of its suitability for usage with a bonus. The greater this number is, the more likely you are to complete the bonus.
In the vast majority of situations, this figure is accurate. The current trend of change, on the other hand, is concerning. Before you start playing, you should absolutely keep an eye on this. If you're unsure, go for the highest RTPs.